What was Martin Luther King Jr.'s favorite dish?? PECAN PIE!
We all know that Martin Luther King Jr had a way of speaking to the heart of many. But did you know that Pecan Pie was his preferred slice? Come celebrate MLK Jr. Day with us and we dive into the makings of True Southern Pecan Pie!
The Chef that will be teaching this class is new to CAC but not new to the Culinary World. Chef Glenda fames herself as the Misfit Chef. We find that fitting. And we are pretty sure she has found her fit with us. We are excited to announce that her classes will be for ALL ages!! Look for her upcoming series and classes titled Edible Education. We think it's pretty yummy.
About the Course: AGES 10-14 or skill level basic
This course covers the techniques and skills needed in baking a pecan pie from scratch. Various methods of making pie dough and pie filling will be discussed. We will discuss the possible outcomes included unwanted outcomes and how to avoid those. Students will receive instruction as well as having hands on experience on the assembly of the pie.
MAJOR COURSE LEARNING OBJECTIVES: Upon successful completion of this course the student should understand how to:
Prepare a pecan pie.
1. Know proper sanitation rules of the kitchen
2. Identify simple baking tools
3. Know how to choose the right fat for the right reasons.
4. Know how to choose the right flour. Know that gluten free options are available.
5. Understand not to overwork the dough to not over develop the gluten
6. Know the difference in a flakey or mealy dough.
7. Know the importance of keeping all ingredients cold.
8. Know the proper temperature to cooking the filling to without crystallizing the sugar.
9. Know the reason why you blind bake the crust before adding the filling
10. Know helpful tips on not over baking the crust while cooking the filling
COURSE CONTENT: Recipes will be given in class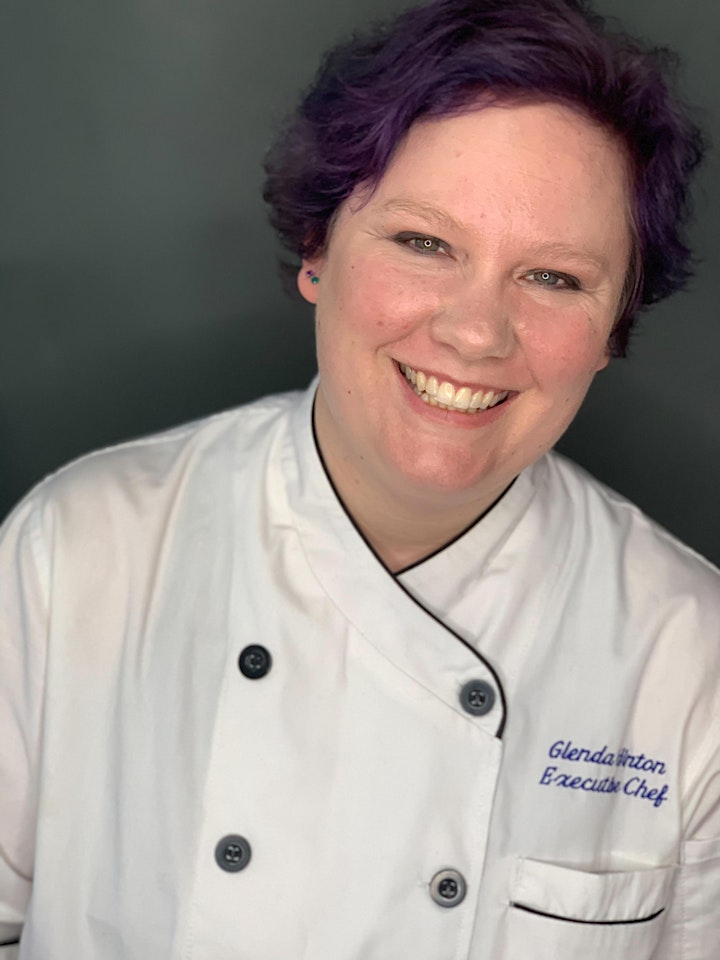 This is Glenda Hinton, The Misfit Chef. Chef Glenda's passion for food began at an early stage in life. Glenda came from humble back beginnings. Being raised where income was limited.
She spend a tremendous amount of time in the kitchen as a child helping with family meals as well as preparing the larger family-get-together meals for family reunions and holidays.This was where she gained her first experience learning to feed a large amount of people on a small budget. She loved the way food seemed to bring everyone together.
Glenda graduated with a degree in hospitality management with a concentration in both culinary arts and baking and pastry. Upon completing her degree, Glenda entered into a baking competition, earning bronze and landing her in France where she studied the art of french cooking, starting in Lyon, France, stopping at the Paul Bocuse institute along the way and finishing up training in Paris.
Since graduating, Glenda has worked for a wide variety of culinary avenues, ranging from country clubs, retirement communities, hotels, fine dining and even your small neighborhood market cafe types.
Glenda is a family oriented chef, Married to the most supportive husband Chad. They have two young gentlemen, Dylan (15) and Skyler (8). With a family first mentality towards life, Glenda focuses on healthy food options, community inclusive when means supporting local, and passing knowledge onto younger generations. She finds joy in both cooking and baking and is always looking for new things to learn about in the kitchen. Chef is looking to share her knowledge and experience through her Edible Education classes.